This year's Wimbledon is certainly providing surprises and more - at least for the men, it is.

Yesterday it was my (and other Rafa fans) turn to be worried. A match which on paper he should have won easily went the distance. At least he played well and most of the time was finding the lines with scary accuracy, but two pretty bad serving games gave Haase (from Holland) the first and the third sets.

The first set wasn't that troubling as Haase was a player Rafa had never played before and probably knew little about, and when he bounced back in the second and broke twice, I thought all would be well. But no, Haase came up with some stupendous play in the third and suddenly we were two sets to one in Haase's favour. The fourth showed why Rafa is world #01 as he raced through it 6 : 0 and Haase's head was dropping just a little. But Haase didn't give in and rallied and refound his serve in the fifth and then Rafa achieved an early break and held on.

Afterwards, like Fed, he did say he was lucky at times, but also that he was happy with his play and praised Haase's play and in particular his serve, which really was huge and got him out of trouble on a lot of occasions. Not quite so edge of seat as poor
plutos_revenge (and other Fed fans) went through, but still somewhat tiring.

And talking of serves. The match did finish yesterday. With another twenty games being played, finally John Isner (who still looked dead on his feet) came through and won 70 : 68 in the fifth. I didn't care who won, I wasn't invested in the match in that way, but I felt somewhat emotional at the scenes and so very sorry for Mahut - that someone had to lose that epic seemed so unfair.

I'd said to J at breakfast that I hoped Wimbledon did something extra to mark the achievement of both men; they did. In fact, not just the two players, but also the umpire. They got gifts (glass bowls and champagne flutes I believe) and a big thing was made of taking photos, etc. by the scoreboard. I'm sure Isner was loving it, but at the same time you could see he genuinely felt for Mahut, who clearly just wanted to get off the court.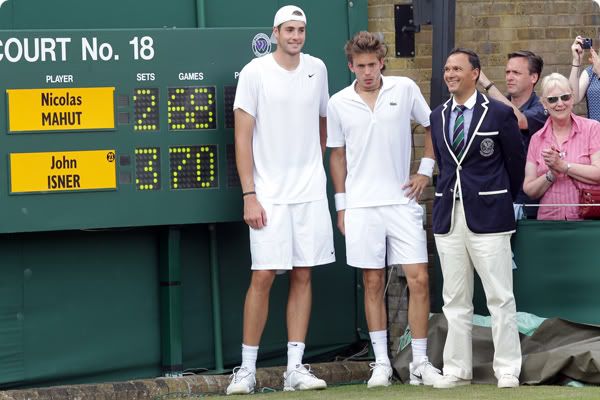 Whatever happens at Wimbledon now, save Murray winning it, I think this year's Wimbledon will be remembered for this match.

In other things the Queen visited for the first time in thirty-three years and watched Murray beat Nieminen; both men made extremely good bows going on and coming off court and were then presented to her Majesty after their match, as Murray had been unable to be presented prior to the match due to warming up.

The ladies matches all went according to plan with the exception of Svetlana Kuznetsova going out.

Murray's brother, Jamie, and his doubles partner came so close to causing the biggest upset in the men's doubles, when they had their chances to beat the top seeds; sadly they didn't.

Today brings us my three favourite ladies, Andy Roddick and Fed again. I'm not sure how much I'll get to see as my godmother is up here on her annual visit and this time her daughter (whom I haven't seen for c. 23 years - where does time go?) has come too. Thus we are being invaded this afternoon *g* But I'm sure I'll get to see some before they arrive and after they've gone, as Roddick plays third on Court 1.

Here's again hoping any favourites (eyes
plutos_revenge for Fed) doesn't cause any anxiety today.