When
nicis_anatomy started to post this meme last month, I promised her that I would do it in June. So I am keeping my promise. From seeing Nici's posts last month, I know several of my answers will be the same as hers.



Day 01 - A show that should have never been cancelled.
Day 02 - A show that you wish more people were watching.
Day 03 - Your favourite new show (aired this TV season).
Day 04 - Your favourite show ever.
Day 05 - A show you hate.
Day 06 - Favourite episode of your favourite TV show.
Day 07 - Least favourite episode of your favourite TV show.
Day 08 - A show everyone should watch.
Day 09 - Best scene ever.
Day 10 - A show you thought you wouldn't like but ended up loving.
Day 11 - A show that disappointed you.
Day 12 - An episode you've watched more than five times.
Day 13 - Favourite childhood show.
Day 14 - Favourite male character.
Day 15 - Favourite female character.
Day 16 - Your guilty pleasure show.
Day 17 - Favourite mini series.
Day 18 - Favourite title sequence.
Day 19 - Best TV show cast.
Day 20 - Favourite kiss.
Day 21 - Favourite ship.
Day 22 - Favourite series finale.
Day 23 - Most annoying character.
Day 24 - Best quote.
Day 25 - A show you plan on watching (old or new).
Day 26 - OMG WTF? season finale.
Day 27 - Best pilot episode.
Day 28 - First TV show obsession.
Day 29 - Current TV show obsession.
Day 30 - Saddest character death.



Day 12 - An episode you've watched more than five times.

A really hard choice, as it could be one of so many. Again, I'm deliberately avoiding NCIS in an attempt to make this meme a little more wide-ranging.

So I am going for my all time favourite The Professionals episodes 'Hunter Hunted'.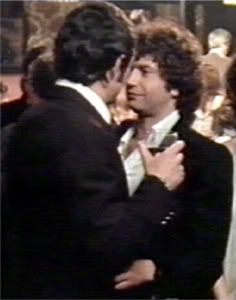 'Hunter Hunted' is one of the pivotal episodes when it comes to Bodie/Doyle's relationship. But it's also a first rate episode whether of not to ship the pairing or see them as good mates and colleagues who always have one another's backs. But obviously for me, I see it was more than just friends.

It's a great hurt/comfort and rescue episode, has an interesting case, there is some great dialogue and character interaction. It also shows what we see so often; Bodie and Doyle really do only have eyes for one another, even when in the company of the latest girlfriend - see picture for evidence of just how close, intimate and 'shut out the rest of the world' they can get.

Pros, as some of you know, was my second major fannish obsession and one that was never meant to turn into a fandom. I started rewatching it purely to use as a compare and contrast with Starsky & Hutch for my Master's Degree dissertation. But the characters and the show, which I'd loved when it first aired, had other ideas *g*

A wee snippet from the episode.

BODIE: I always knew it, you know.
DOYLE: What?
BODIE: You're as mad as he is.
DOYLE: Who?
BODIE: The nutter! Could be anywhere, couldn't he? Eh? A thousand yards. What's that? A hit. Easy, couldn't miss.
DOYLE: That's right, but he won't, will he? Well, not yet anyway. He's teasing me. He's not just a nutter; he's a sadistic nutter. He's setting me up.
BODIE: Yeah, and you're just going to sit here and take it like a traditional nanny goat.
DOYLE: Till he comes out to get me.
BODIE: And then what?
DOYLE: You'll save me.

The 'You'll save me' line says so much and is loved by Pros fen.

I don't know how many times I've watched this episode, but the first time was back in October 1978 *g* It really is a must watch episode.