Yesterday was Ladies' Quarter Finals Day and despite the long rain delay, all four matches were completed.

The 'on paper these ladies should win' was accurate for three out of the four.

Maria Sharpova's demolished Dominika Cibulkova in straight sets with the loss of just two games.

Victoria Azarenka also came through easily defeating Tamira Paszek in straight sets with the loss of four games.

Petra Kvitova had a much tougher test against Tsvetana Pironkova, but finally prevailed in three sets.

The only 'upset' was Sabine Lisicki's defeat of the seeded Marion Bartoli in three sets. And given how Lisicki's been playing (she's the one who put out Li Na) I don't really think it can be called a total shock, despite the fact she is a wild card.

I was watching Lisicki vs. Bartoli which got under way under the roof when the skies opened and the thunder crashing and torrential rain banging down on the roof was quite surreal. I can only begin to imagine what it was like for those playing, officiating and watching. In fact with the first massive crash of thunder several people, including both players ducked.

Today is Men's Quarter Finals Day with all four top seeds still in the competition.

We have:

Rafa vs. Mardy Fish
Djokovic vs. Bernard Tomic
Federer vs. Jo-Wilfried Tsonga
Murray vs. Feliciano Lopez

Again, on paper the top four seeds should all prevail fairly comfortably. But the other four have more than earnt their places in the quarter finals and are all playing great tennis.

Mardy Fish is the current American #01 and dismissed last year's runner up (the man who put out both Federer and Djokovic) Tomas Berdych in straight sets. He's never beaten Rafa so comes in really with nothing to lose and everything to win. And he's at home on the grass.

Tomic is the eighteen year old qualifier who put out Soderling (okay he was ill, but it's often harder (ask three of Murray's opponents in Paris) to put out an injured and/or ill player than a healthy one) and then went on to put out Malisse - both matches were comfortable wins. And this young man has nothing at all to lose; he is expected to be defeated easily and so can just go out and play.

Jo-Wilfried Tsonga is a jolly good player, in fact had he not had a habit of going 'walkies' mentally during matches (especially five-setters) I think he'd be more highly ranked than he is. He was runner up at Queen's earlier this month, losing in three sets to Murray. He's very comfortable on grass and is a darn good player.

Lopez the man who dismissed Roddick in straight sets, the man who came back from the brink of defeat in the fourth round is also a very good player and despite his Spanish origins seems more at home on grass than other surfaces, certainly he's gone further at Wimbledon than at any other Grand Slam.

So all four could be very close matches. I'm going out on a limb and saying that I expect the top four seeds to prevail in three or four sets. But it wouldn't be a total OMG what a shock if they didn't all get through.

But here's to the top four prevailing. The top four men's seeds haven't got through to the semi finals at Wimbledon since 1995, when Andre Agassi, Pete Sampras, Boris Becker and Goran Ivanisevic did it. So no pressure, guys *g*
I saw this quite some time ago on
dinozzoitis
's journal and finally got around to doing it.
(
Collapse
)
Day 29 – First scene that comes to mind
This is easy:
The hat brim scene in Season Two's 'Lt. Jane Doe'.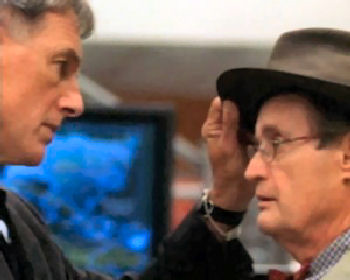 I know for a lot of Gibbs/Ducky fans this is one of the pivotal scenes that really supports G/D as pairing. Indeed, for some it was
the
moment they saw Gibbs/Ducky rather than Gibbs & Ducky. Indeed for me, it certainly was the scene that made me stop 'denying' this show was a fandom and I had got another pairing and start admitting it to myself.
It takes place in the squad room in front of the team and is when Ducky comes back from a little bit of 'investigation' and has to face Gibbs.
GIBBS: You've been holding out on me, Doctor.
DUCKY: Yes, Agent Gibbs. I have.
And then Gibbs tilts the brim of Ducky's hat back so he can see his face and more importantly his eyes. Because whilst Ducky is very vocal verbally, his eyes are even more vocal. And nothing else is said; instead Ducky turns and walks away going down to Autopsy and after a moment of two, a clearly very concerned Gibbs follows.
It just struck me so hard as 'wow, that just isn't something one man does to another no matter how old and close the friendship is'. It's a very intimate thing to do.
There are zillions of scenes that stand out and that I remember easily (and not just Gibbs/Ducky ones), but this will always be the first one that comes to mind when I think about the show.